Disclaimer – this post is a sponsored advertisement for the brand Steenbergs spices. I love and use this brand's spices, and would not promote them if I didn't.
What's your favourite type of curry? My favourite curries are very saucy – preferably with a generous amount of coconut cream. This creamy chickpea and roasted vegetable curry using spices from Steenbergs is just divine. Rich, creamy, thick, nutty – and healthy thanks to plenty of veggies!
This curry isn't like the usual madras, tikka masala, korma or jalfrezi that many people love (including me!). Instead, it's an original curry with an original spice blend and all of my favourite tricks to give a curry maximum flavour – including using amazingly high quality spices from Steenbergs.
Why Steenbergs spices?
Personally, I love organic spice companies – and Steenbergs is my favourite! They provide such a huge range of organic spices, loose-leaf teas and other organic cooking ingredients. Everything they sell is absolutely jam-packed full of flavour and aroma.
They're a family-run business with a friendly working environment and they're super committed to organic, fairtrade food.
The company was set up in 2003 by Axel and Sophie Steenberg in North Yorkshire. They've moved 3 times since then as they've grown and are now in a purpose-built, eco-friendly factory just 200 yards from where they started!
In fact, you can see a picture of Axel and Sophie Steenberg together below.
I love Steenbergs because they're so eco-friendly. They use green suppliers whenever possible and even package their spices in small jars that you can reuse! Even their factory is as eco-friendly as possible, and they're at the forefront of fairtrade spices in the UK and the rest of Europe.
I decided to use their spices in a curry specifically because I couldn't possibly think of a better way for the gorgeous, aromatic flavours to shine as the star of the dish!
It's so important to use fresh, good quality spices in your cooking. After all, if your spices are a few years old then they'll have lost a lot of their flavour over time. I also like to use organic, fairtrade ingredients when possible. This is simply because I believe that these ingredients are often better and more flavourful – and that's certainly true of Steenbergs spices.
A Note from Steenbergs
We want to make you smile by providing you with the organic Fairtrade spices you want to buy without having to compromise. Steenbergs' herbs, spices and teas are: ethically sourced – many carry the Fairtrade Mark; organic; environmentally sound – Steenbergs is carbon neutral; great flavour; stylishly (and functionally) packed; and there for you to create fun and delicious dishes and drinks.

– Axel & Sophie at Steenbergs
Now, back to the curry!
What do I need to make this chickpea & vegetable curry?
You don't actually need much at all to make this curry! Just a handful of spices and other common ingredients:
What spices do I need?
You'll only need common spices – the blend for this curry is simple but divine:
If you're particularly observant then you might notice that these spices are the same as the blend I use in my simple vegan masala curry. It's a blend that my mum cooks with a lot, and when she introduced me to it, I immediately adored it! In fact, it's one of my core blends to use in curries.
You just use equal amounts of all these spices to create the blend and it gives you a curry that's warming, aromatic, flavourful and generally just stunning. Especially with all the other ingredients that you'll need to add!
What other ingredients do I need to make this easy, creamy curry?
None of the ingredients here are rare, and I'll also explain why I chose to use them in this curry:
oil – I like to use vegetable or sunflower oil in my curries as olive oil and other flavoured oils can slightly overtake the delicate flavours of the other ingredients. However, since this curry isn't cooked on a high heat, you can use olive or coconut oil if you prefer.
sweet potato – it's healthy and substantial enough to fill you up and to withstand the aromatic curry sauce without losing its flavour
cauliflower – everyone loves cauliflower in curries – and how could I not use it in such a delicious, seasonal dish?
butternut squash – again, it's healthy, filling and works brilliantly when roasted with spices and added to a fragrant curry sauce!
yellow/brown onion – I always use onion in my curries to add to the flavour (I just generally love onions and garlic in terms of flavour!). However, you could use red onion instead if you prefer.
garlic – honestly, I often use pre-minced "lazy" garlic, but for curries I do recommend the real thing. It's just more fragrant and powerful – but that doesn't stop me believing that you can never use too much – as displayed in my cheesy garlic butter pinwheels and simple garlic basil pasta!
ginger – here I actually prefer using pre-minced frozen ginger every time. It prevents waste since you'll rarely ever need an entire piece of ginger to make a dish. The ones supermarkets sell are just too big!
large tomatoes – these help to start off the curry sauce as they break down. Plus, as they break down, they also release certain nutrients – it's a great way to keep your curry healthy as well as delicious!
coconut cream – I buy it in cartons and much prefer it to coconut milk, which I find is just too watery and bland.
mango chutney – whatever your favourite brand is! I use this often in curries to add depth of flavour by hitting the curry with that sweet yet tart mango chutney flavour we all love. It's heavenly!
chickpeas – I use tinned ones whenever I cook with chickpeas (such as my crispy Indian chickpeas). It just saves the time and effort of starting them from scratch yourself, but non-tinned does work just fine here too so long as you cook them in advance.
ground almonds – I use ground almonds to thicken the curry sauce and add a lovely korma-like nuttiness to the flavour. It never fails to naturally thicken the sauce (in a gluten-free way!).
a stock cube – I used a vegetable stock cube. Again, this adds to the depth of flavour in the curry subtly – as well as helping to season the sauce (since most stock cubes are naturally very salty).
How do I make this roasted vegetable curry?
The method here is actually really simple – it's really just 2 steps. The first one is to roast the sweet potato, cauliflower and butternut squash coated with spices for maximum flavour. As for the second step, that's making the chickpea vegetable curry sauce.
Both the veggies and the sauce use the same spice blend, which means that the flavours match perfectly and it keeps your shopping list nice and short which is always a bonus!
If you're extremely observant then you might notice that I used the same spice blend in my simple vegan masala curry. That's because this blend is just divine! You could even use this blend instead of the one given in my crispy Indian chickpeas recipe to make an Indian-style (healthy) crouton-alternative for salads!
How to Roast the Vegetables for the Curry
This is super simple – and, in fact, you could just make the roasted veggies and serve them as a side dish by themselves – they're certainly tasty enough to stand alone, and they'd go perfectly with some chicken tikka or grilled tofu tikka for a vegan-friendly version!
preheat the oven and line a large roasting tin with parchment paper
mix together the oil and spices in a small bowl
drizzle the spiced oil over the veggies and toss to coat
bake for 20 minutes, then increase the temperature and roast for a further 10 minutes
See? Super simple! You can roast the vegetables for longer so that they become crispier, but I chose not to as then you run the risk of burning the spices and turning them bitter and flavourless.
The only thing to note is that you may need more than one tray. This is because the vegetables need to stay in one layer without overcrowding the fan. If you do overcrowd the pan then the vegetables will steam slightly instead of roasting properly. This is a bad thing because it doesn't help to toast the spices for extra flavour or to crisp up the vegetables so that they don't turn mushy when added to the curry sauce.
How to Make the Creamy Coconut Curry Sauce
I do have a few tricks for adding extra flavour to curry sauces here , namely using 1 tbsp mango chutney to add some acidity and slight sweetness that complements the spices.
Another one of my little tricks is to add tomatoes near the beginning of cooking the curry. You don't need to add many, but they help to give the sauce a light tomato flavour that's neither too acidic nor too sweet. It's important to use a bit of acid when you're cooking in order to develop maximum flavour. This is why I use either lemon or lime in so many of my recipes!
I also like to add ground almonds to my curries to both thicken the sauce, and to add a gorgeous nutty flavour. Of course, if you're allergic to nuts then you can either skip this or add a cornstarch slurry using this method to thicken up the curry sauce instead of the almonds.
heat the oil in a large saucepan over medium-low heat
add the onion, garlic and ginger and cook until the onion begins to turn golden. This may take longer than you expect, but I promise that it's worth the wait! And don't be tempted to turn the heat up past medium or the garlic and ginger may begin to burn and turn bitter
add the tomato wedges and allow them to cook until they become extremely soft
add the spices and stir them in to coat the onion and tomatoes. Let the spices cook for 1-2 minutes over low heat, stirring constantly. This is to remove the powdery, dusty flavour that comes from raw spices
add the roasted vegetables and the rest of the ingredients (mango chutney, coconut cream, chickpeas, ground almonds, stock cube, and water) and stir them all together gently. Be careful not to stir too hard or the vegetables may start to fall apart
let the vegetables and sauce simmer for 5 minutes (or more to taste) and season, being careful not to add too much salt as most stock cubes are very salty
enjoy!
See? As much as it looks like a long list of ingredients, really, most of them are all added at once to keep things easy
How should I serve this curry?
Personally, I like to serve easy, creamy curries with any combination of the following:
However, you could just make the roasted veggies and serve them as a side dish by themselves – they're certainly tasty enough to stand alone, and they'd go perfectly with some chicken tikka or grilled tofu tikka for a vegan-friendly version!
How to Customise this Easy, Creamy Curry
You can customise this curry in so many ways! For one, you can try swapping out the veg depending on the season – in summer, try using eggplant (aubergine), zucchini (courgette) and bell peppers. After all, it's always best to cook with good quality, organic ingredients – especially if they're local such as from your local farmers' market!
You could also make a few substitutions or additions:
use regular potatoes instead of sweet potatoes in the vegetable mixture. I'd recommend removing the skins even though I usually leave them on for everything, but it's never much fun to find a soggy potato skin in the middle of a mouthful of curry sauce! As for the type of potatoes, I'd recommend yukon gold, red potatoes or baby potatoes
roast some firm tofu or paneer in the spices along with the veggies for extra protein
if you're not vegetarian or vegan, try stirring in some cooked and diced chicken, pork or beef at the end with the coconut cream. You may want to also use a chicken stock cube instead of a vegetable one in this case
use plain, natural yogurt instead of the coconut cream for a non-vegan curry with a slightly thicker sauce
use a cornstarch slurry instead of ground almonds to thicken the sauce – or skip it altogether!
make your own garam masala from a recipe such as this one
swap the stock cube and 200ml water for homemade vegetable stock using scraps (which helps to prevent food waste!
Preventing Food Waste
Do you know what the only issue with this recipe is? It leaves you with leftover veggies and chickpeas! Why not try one of the ideas below to use them up.
You may also find that the portions are rather large (it's too tasty to only have a little bit!), so you may have leftovers of the entire curry.
Of course, it's so important to reduce food waste when you possibly can. After all, it's not only good for your food expenses, but rotting food in landfills is also bad for the environment. And anything that's bad for the environment is bad for us as inhabitants of said environment!
Using up Leftover Veggies
This recipe leaves you with a spare half an onion, half a head of cauliflower, 3/4 of a butternut squash and half a tin of chickpeas. So, why not put them to good use?
Using half of a large yellow onion
There are 2 options here – either you could make one dish using half an onion, or two dishes each using 1/4 onion. Either way there are plenty of options!
Using half of a head of cauliflower
This depends largely on how big your cauliflower is. However, there are still some brilliant options!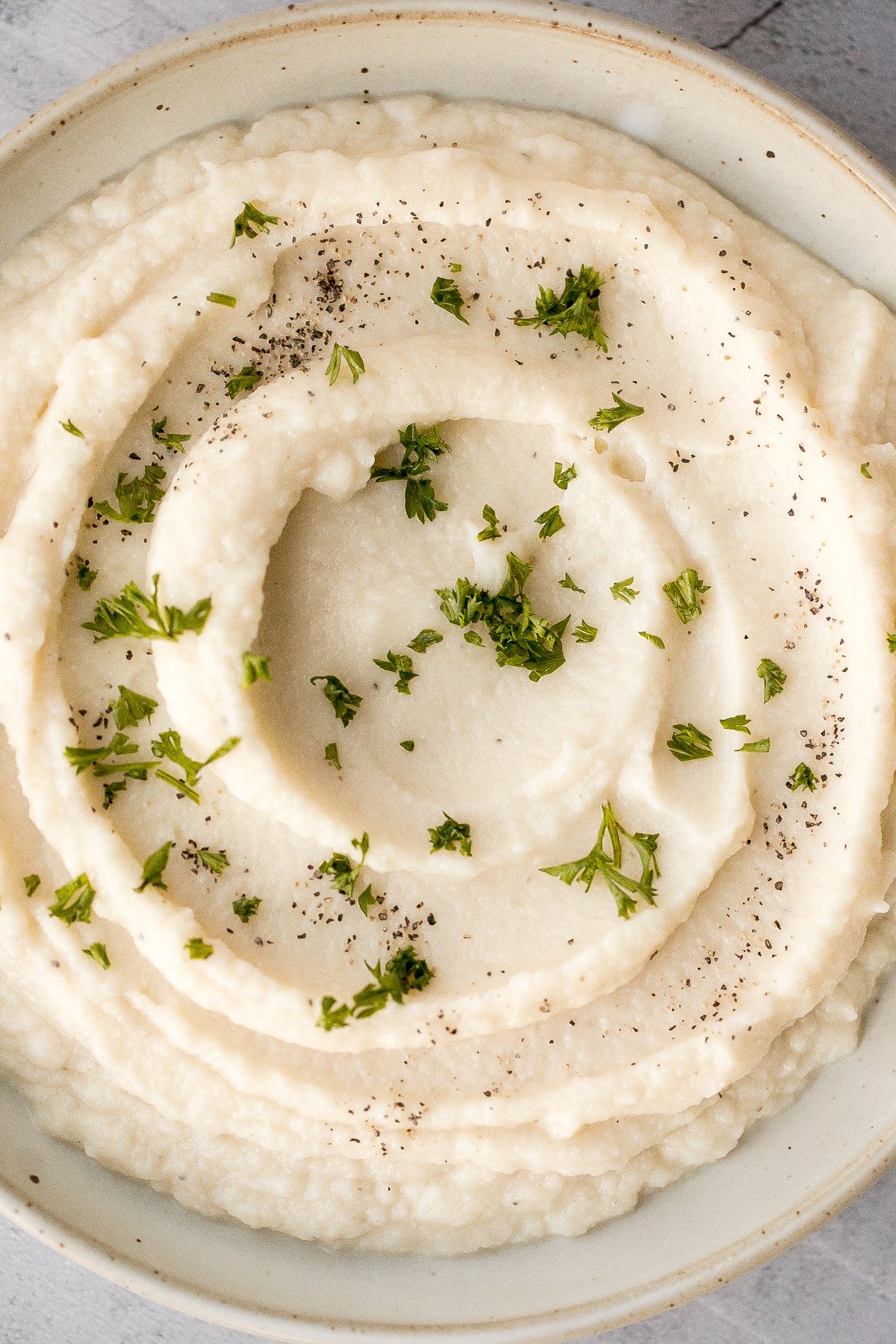 Using 3/4 of a butternut squash
Most recipes call for 1/2 a butternut squash, so I'll list a few examples of those here. After all, you can always try making a half-batch – or just buying a smaller squash!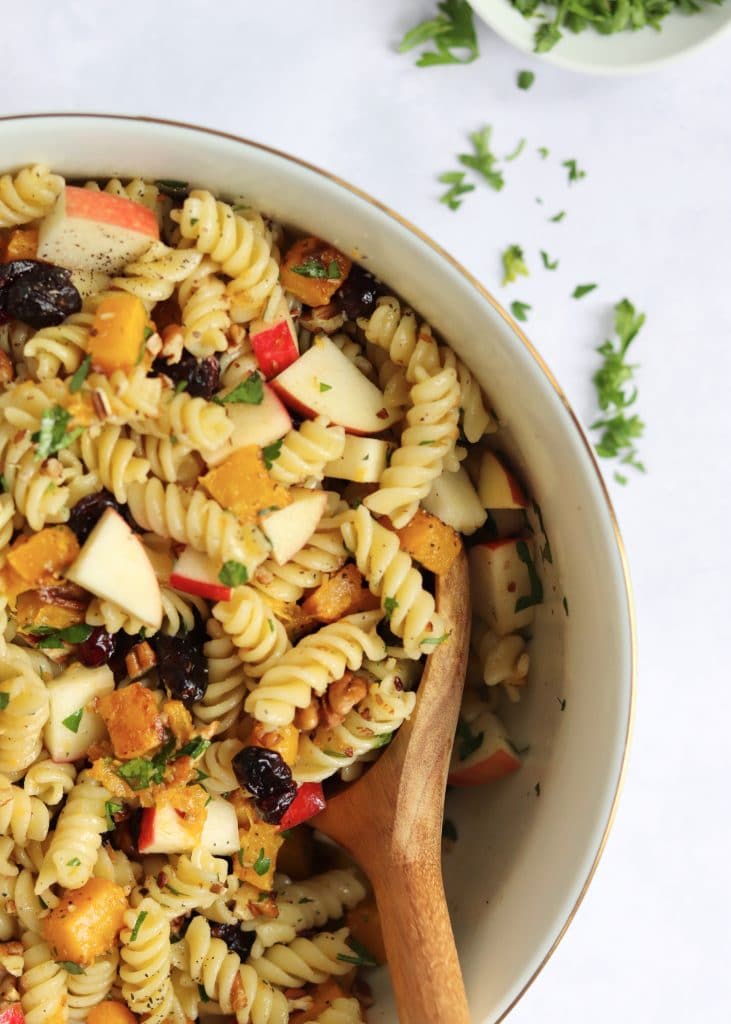 Using half of a tin of chickpeas
Using the rest of a bag of sweet potatoes
You might buy your sweet potatoes individually, but a lot of places also sell bags of them for a decent price, so it's worth experimenting with different ways to enjoy them!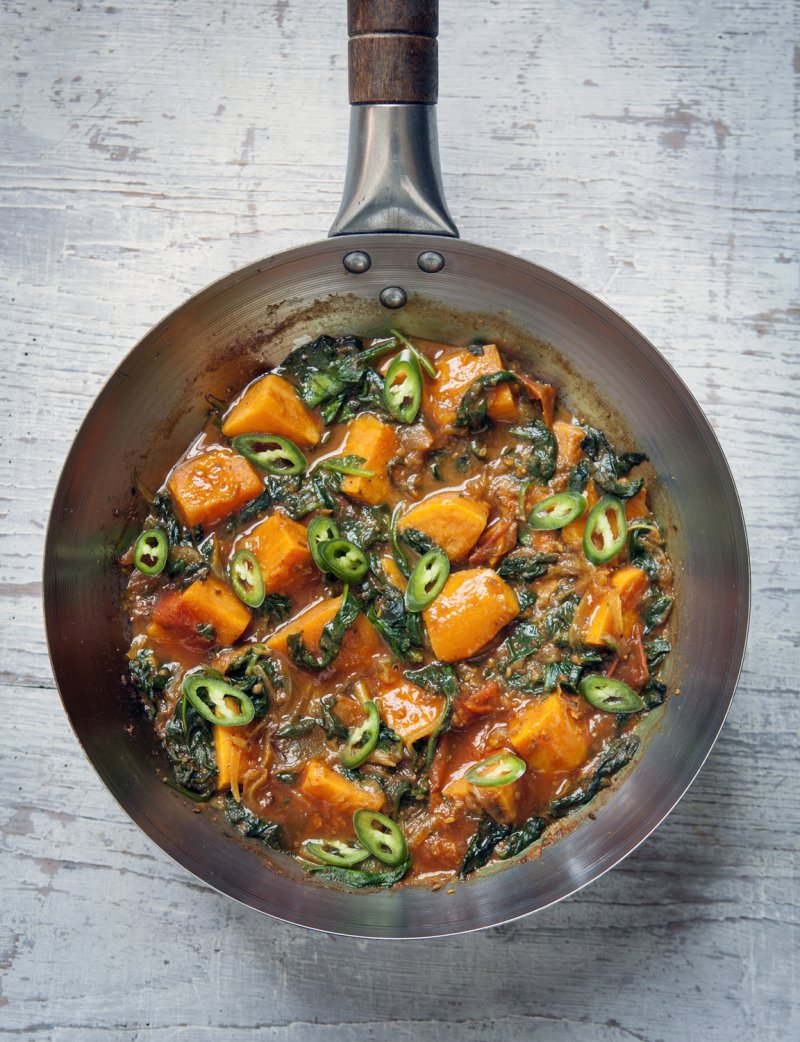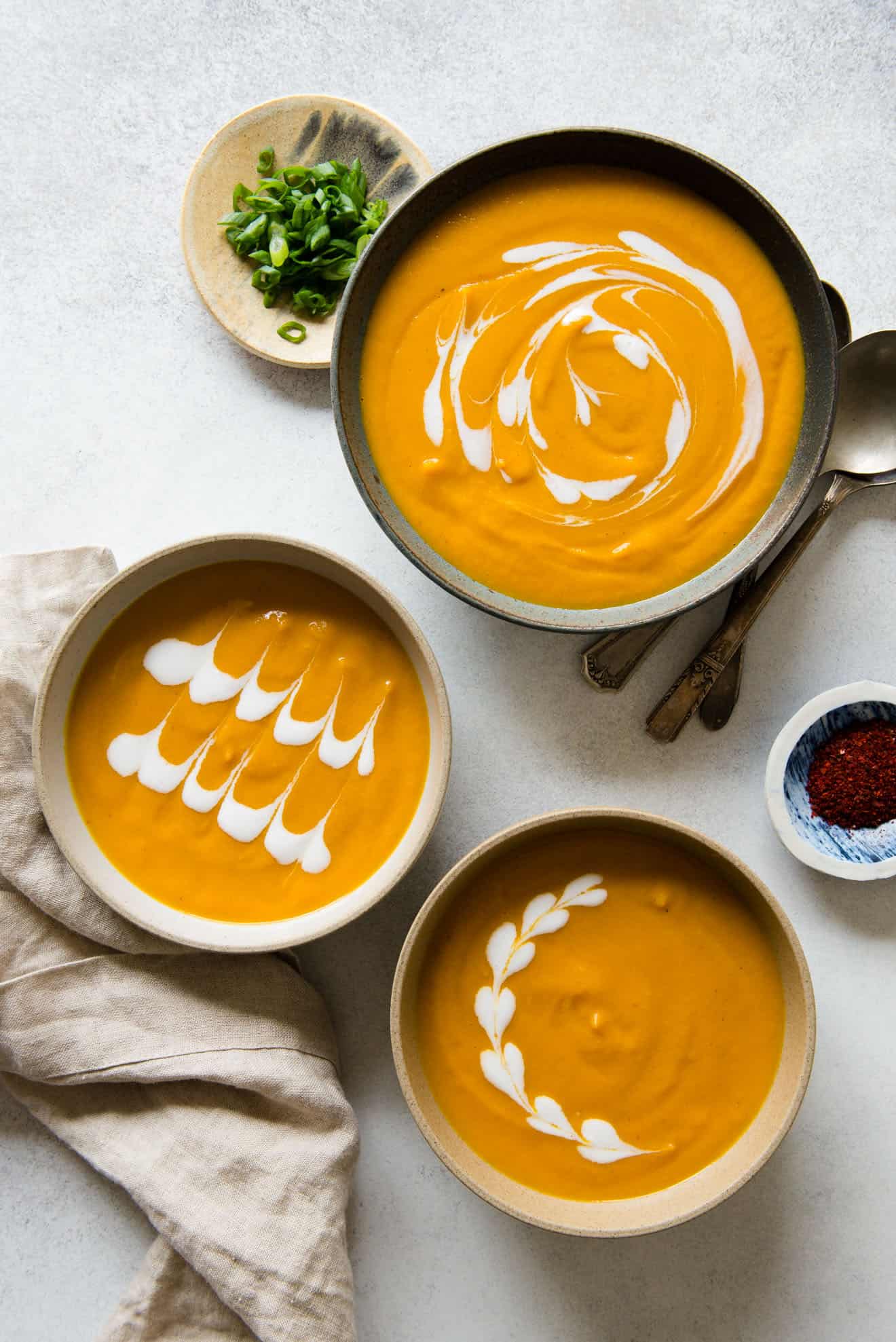 What to do With Leftover Vegetable & Chickpea Curry
Luckily, as with most curries, this one reheats absolutely amazingly! Plus, the longer it sits in the fridge, the longer the flavours have to meld into one aromatic roasted vegetable and chickpea curry
Creamy Chickpea and Roasted Vegetable Curry
Yield:
2-4 people (2 large portions)
This thick and creamy roasted vegetable curry with chickpeas is a delicious vegan curry packed full of healthy veggies, protein-packed chickpeas and smooth and luxurious coconut cream. It's like heaven in a bowl!
Ingredients
For the roasted vegetables:
1 sweet potato, peeled and diced into bite-sized pieces
1/2 head of cauliflower, cut into florets
1/4 butternut squash, diced
1 tsp Steenbergs ground turmeric
1 tsp Steenbergs ground cumin
1 tsp Steenbergs cayenne pepper
1 tsp Steenbergs ground coriander
1 tsp Steenbergs garam masala
1 tbsp oil
salt, to taste
For the chickpea curry sauce:
1 tbsp oil
1/2 large yellow onion
1 tsp minced ginger
2 cloves garlic, minced
4 large tomatoes, cut into wedges
1 tsp Steenbergs ground turmeric
1 tsp Steenbergs ground cumin
1 tsp Steenbergs cayenne pepper
1 tsp Steenbergs ground coriander
1 tsp Steenbergs garam masala
1 250ml carton coconut cream
1 tbsp mango chutney
1 200g tin chickpeas
3 tbsp ground almonds
1 vegetable stock cube
200ml (3/4 cup) water
salt, to taste
Instructions
For the roasted vegetables:
Preheat the oven to 180° Celsius (350° F) and line a roasting tin with parchment paper.
Toss the vegetables with the oil, salt and spices and spread in an even layer in the roasting tin.
Bake for 20 minutes, stirring halfway through, then increase the temperature to 200° Celsius (400°F) and stir again.
Bake for 10 minutes and let sit while you make the sauce.
For the chickpea curry sauce:
Heat the oil in a large saucepan over medium-low heat.
Add the onion and cook until starting to turn golden.
Add tomato wedges, garlic and ginger and cook until the tomatoes have released their juices.
Add the spices and toast, stirring constantly for one minute.
Add the roasted vegetables and all other ingredients for the sauce. Simmer for 5 minutes then serve.



Nutrition Information
Yield

4
Serving Size

1
Amount Per Serving
Calories

562
Total Fat

26g
Saturated Fat

13g
Trans Fat

0g
Unsaturated Fat

12g
Cholesterol

0mg
Sodium

549mg
Carbohydrates

77g
Fiber

11g
Sugar

53g
Protein

11g
All nutrition values are an estimate and will vary. Nutrition information has been provided for 1/4 of the curry made.